What's the Smartest, Easiest, and Least Expensive
Way to Protect Your Family's Health?
When it comes to Vitamin D Supplements, is your health worth $1.50 per month? Most vitamin D supplements come in insignificant dosages of 400, 800 or 1000 IU's. While 2000 IU's is a little better, it is still FAR below the Vitamin D Requirements outlined by most researchers to protect you from the many Vitamin D Deficiency related health problems. And most are made with cheap oils and fillers that can lead to nasty side effects.
So, it's exciting to find 'dry vitamin d supplements' that comes in a clinically significant dose of 5000 IU's vitamin d per capsule. That's only ONE Vitamin D pill per day for most adults to get the disease preventing benefits of Vitamin D. And at 250 capsules per bottle that works out to be:
Can Vitamin D Supplements Help Protect You From Disease?

You need to be vitamin D sufficient in order to protect yourself from all of the  Symptoms of Vitamin D Deficiency that include life-changing illnesses such as cancer and heart disease. In fact, there is extensive research showing that you can slash your risk of a variety of cancers by as much as 50% – just by being vitamin d sufficient- and usually that takes about one 5000 IU capsule per day. Other health issues that may be caused by or partially caused by Vitamin D Deficiency are:
Chronic Pain
Fatigue
Multiple Sclerosis
Osteoporosis
Heart Disease
Depression
Fibromyalgia
Even Cold and Flu Prevention!
Seriously, this is a ridiculously small amount of money to protect your health. It's also vital to note that the disease preventing activity of vitamin d may come only from Vitamin D3. There are two different KINDS of vitamin D that you should be aware of:
Vitamin D2- Also Called Ergocalciferol
Vitamin D3- Also Called Cholecalciferol
What is the difference? While the difference APPEARS small and insignificant, it is really a VERY significant difference. In fact, one of the premier vitamin D researchers, Dr. Reinhold Vieth outlined the many differences between the two supplements and came to the conclusion,
Unfortunately, all PRESCRIPTION Vitamin D is in the form of Vitamin D2- or Ergocalciferol. Bio Tech 5000 IU vitamin d pills, however,  come in the RIGHT form of Vitamin D- Vitamin D3. One other problem with many Vitamin D pills is the other ingredients they contain. Often they contain stabilizers that carry the vitamin d.  Many of these are in the form of oils that are either rancid or damaging for your health such as:
Cottonseed Oil
Soybean Oil
Corn Oil
Canola Oil
These fats have often been turned into the heart-clogging trans-fats through the process of hydrogenation, or they could turn rancid, a common problem leading to many common Vitamin D Side Effects. And you have no idea how long that oil was sitting on the shelf before it was made into Vitamin D! So, your only safe bet is to get a 'dry' vitamin d that is made without oils, or have it made in coconut oil (also called MCT)- which does not go rancid.
So, the three things that you want to look for when you buy vitamin d are:
Vitamin D3- Or Cholecalciferol
A Clinically Significant Dose
'Dry' Vitamin D without oil or in Coconut Oil (MCT)-
The BioTech Dry Vitamin D Supplement (below) fulfills all of these requirements and is my choice for an adult vitamin D supplement. Some people worry that it needs to be PACKED in oil since Vitamin D needs fat in order to be absorbed, but taking it with a meal accomplishes the same thing in a much safer way.
New evidence is emerging that Vitamin D deficiency occurs in about 85% of the population. It's being called an 'epidemic' by Vitamin D researchers. Wouldn't you pay $1.50 a month to reduce your risk of cancer by 50% or more?  Bio Tech now offers convenient clinically significant daily dosing of Vitamin D. At 5000 IU's per capsule, most adults will only need to take ONE pill per day to get all of the benefits of Vitamin D.
At 250 pills per bottle, that's an
8 Month Supply for about $1.50 per month!
That's the Cheapest Health Insurance You'll Ever Find. And being vitamin d sufficient is probably one of the smartest and easiest things that you could ever do for your health.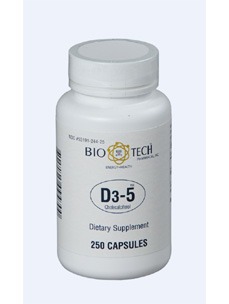 BioTech 5,000 IU Vitamin D Supplement. With 250 capsules per bottle, it is one of the best and least expensive Vitamin D Supplements on the market. At $15.99 per bottle, that's about $1.50 a month for an 8 month supply. You can't go wrong with that.
Supplement Facts
Serving Size:  One Caplet
Servings per container: 250
Ingredient
Amount Per Serving
% Daily Value
Vitamin D3
(Cholecalciferol)
5,000 IU
1250%
Inactive Ingredients: Microcrystalline cellulose, silica, gelatin. Contains no yeast, gluten, sugar or dye.

Store in a cool, dry place away from sunlight.

KEEP OUT OF THE REACH OF CHILDREN.
Suggested Use: Adults age 18 or over – Take one capsule daily or as recommended by a physician.
*These statements have not been evaluated by the FDA. This product is not intended to diagnose, cure or prevent disease.
Vitamin D Supplements for Vegans, Vegetarians,
Children and Those with Allergies to Lanolin

Unfortunately, BioTech vitamin D3 is not a vegan formulation – and neither is the Vitamin D from MegaFood Vitamins. Most other vegan formulations are Vitamin D2, or are not actually vegan, as much as they would like you to believe otherwise. The only vegan vitamin D3 on the market is this Vegan Vitamin D3
made from algae. All formulations of Vitamin D that are not from algae are made from either lanolin or fish (not vegan), or mushrooms that don't contain D3. Don't be fooled by other types of so called vegan Vitamin D. Get a brand made from Algae with the disease prevention benefits of Vitamin D3. This formulation is also in spray form, so it's great for children or those with difficulty swallowing pills.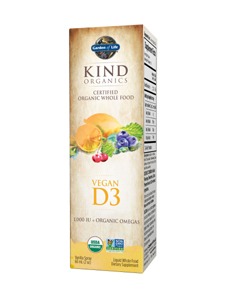 KIND Organics Vegan Vitamin D3 Spray 2 oz. This Vitamin D3 is made from lichen, the only truly  Vegan Vitamin D3 on the market.  Don't be fooled, unless they are made from lichen, they are made by feeding non-vegan lanolin to yeast, or they are mushroom or yeast-derived Vitamin D2, which is less than optimal. This is a Lanolin Free Vitamin D3, suitable for those allergic to lanolin.