Product Description
Results RNA ACS 200 Advanced Cellular Silver 4 oz Colloidal Nanosilver is the best colloidal silver on the market. With 20 times the killing power of regular colloidal silver, this colloidal nanosilver is a powerful weapon to keep in your medicine chest.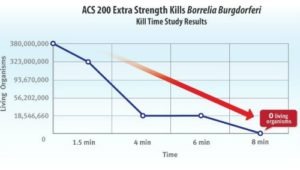 – Extra Strength
– A unique dietary supplement for immune system health*
-Has been proven to kill various bacteria, fungi, candida yeast, and even the organism that causes Lyme Disease.
Supplement Facts
Serving Size: 5 Sprays
Servings per Container: 144
Amount per Serving
Silver 175 mcg
Other Ingredients: Nano Distilled Water
DOSAGE GUIDELINES
• Maintenance Dose: Take 5 sprays by mouth 2 – 3 times daily.
• Higher Dose: Take 10 sprays by mouth 4 times daily.
• Do not eat or drink for 2 minutes following.
• You may take other Results RNA formulas immediately.
WARNING
• Keep out of direct light.
• Do not contaminate or touch fluid in bottle.
*These statements have not been evaluated by the Food and Drug Administration. This product is not intended to diagnose, treat, cure, or prevent any disease.