Douglas Labs Chelated Magnesium Supplements contain amino acid chelated magnesium, an extremely absorbable form of magnesium that is one of the best magnesium supplements there is. With 100 mg of elemental Magnesium per tablet and 100 tablets per bottle, it offers flexible dosing to meet the needs of everyone in the household. Magnesium has been shown to:
# Help muscles relax properly
# Maintain a healthy heartbeat
# Provide support for the immune system
# Is essential for proper bone health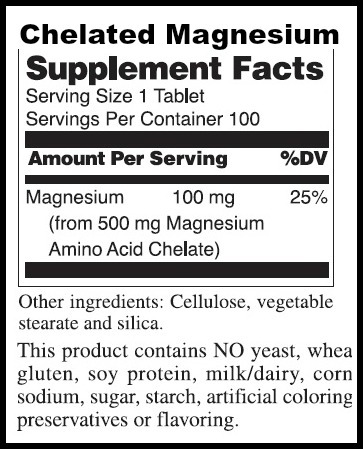 Dr. Carolyn Dean, one of the foremost experts on magnesium, has called Symptoms of Magnesium Deficiency an epidemic! And once you can see some of the symptoms, from headaches, PMS, fibromyalgia, muscle cramps, and osteoporosis, just to name a few, you'll begin to realize just how many people could benefit from magnesium supplementation. Even doubly so because hospital Magnesium Levels are inaccurate, so it's a difficult problem to detect.
Chelated Magnesium 100 tablets, 100 mg per tablet
Each Tablet Contains:
Magnesium Amino Acid Chelate 500 mg.
Equivalent to 100 mg. of elemental Magnesium
Other ingredients: Cellulose, vegetable stearate and silica
Suggested Usage:
Adults take 1 tablet daily or as directed by physician.